The Next Civil Engineering Standard
The concept of Building Information Modeling (BIM) has been widely applied in today's construction industry. As a matter of fact, various civil engineering projects have benefitted from using the various features provided by BIM. For example, most vertical structures or buildings today have adopted some kind of BIM technology, and the investment has paid out as recent studies have shown an increase in quality and completion time by eliminating miscommunication and avoiding inefficient workflow. The concept of BIM has evolved throughout the years, with many innovations in its usage. Today, a new concept of BIM applied to bridges called Bridge Information Modeling (BrIM) has surfaced and is being applied to various different projects around the globe. In contrast to vertical structures, horizontal structures, such as bridges, have a non-linear geometry that must weave through obstacles, existing structures, and restrictions. Therefore, a very civil specialized BIM software is required to manage and adapt to these challenges.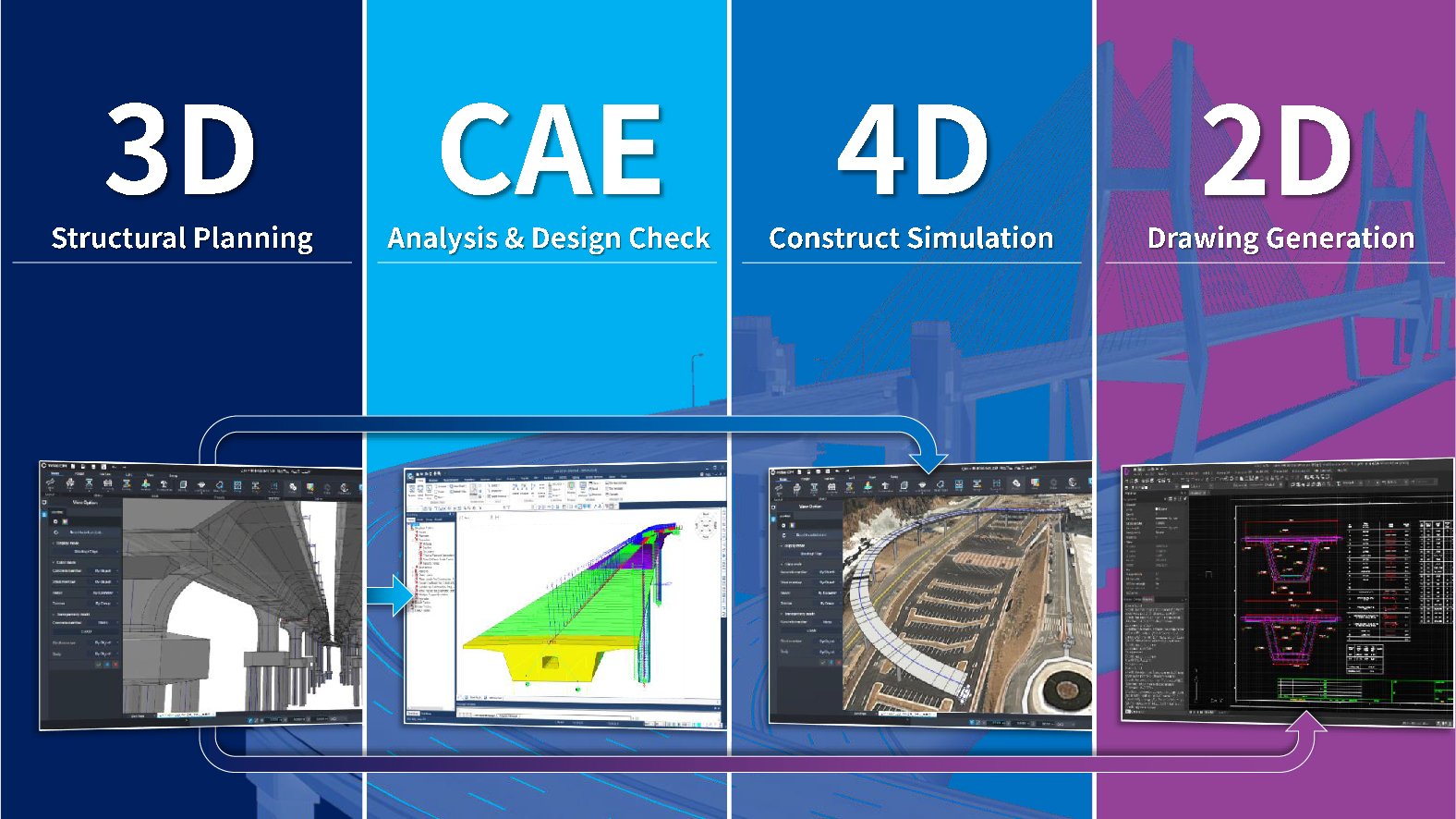 With midas CIM, the user can perform 3D structural planning, CAE analysis & design checks, 4D construction simulations, and 2D CAD drawing generations.
Midas CIM, developed by MIDAS IT, is the world's first BrIM based integrated software that can maximize work efficiency throughout the Planning, Design, Construction, and Management phase of infrastructure projects. Civil specialized software like midas CIM enables users to collaborate on bridge projects through a rich CIM design process. With midas CIM, users can create 3D models and use them for structural planning, analysis & design checks, construction simulations, and 2D drawing drafting. Furthermore, this same model can be used for communication, cost estimations, optimization, and collaboration between the parties involved (designers, engineers, contractors, and clients).
---
Benefits of BrIm?
There are mainly three benefits that BrIM software such as midas CIM can provide to the bridge industry:
Interdisciplinary Collaboration and Communication
Parametric Modeling and Integrated Analysis Interface
Time and Budget Savings
Interdisciplinary Collaboration and Communication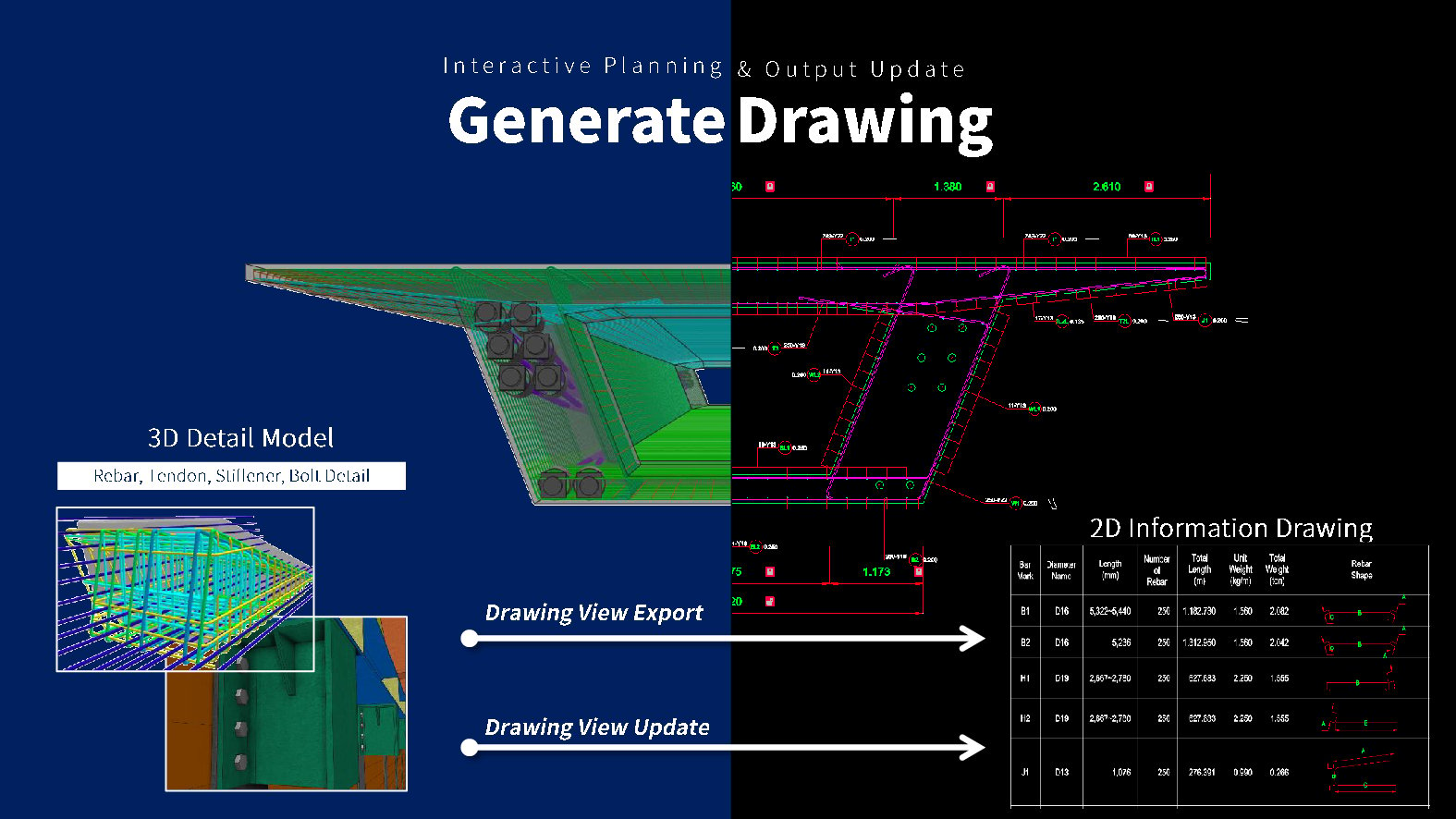 Midas CIM comes in hand with another software called midas DRAFTER, in which engineers can generate 2D CAD drawings using the 3D structural model. Midas DRAFTER is a very useful tool for current engineers who are still working on a 2D CAD environment.
Most bridge-related projects have various parties involved ranging from bridge designers, structural engineers, geotechnical engineers to contractors and clients. Currently, most of the people involved work on the same project using different tools and communicated by using elaborative 2D CAD drawings. Working with such processes can lead to various inconsistencies, miscommunication, and clashes that may not be detected in the early stages of construction. However, having a 3D BrIM model in platforms like midas CIM can help the different parties work more collaboratively, effectively, and simultaneously by using one single model. On midas CIM, the clients can have an easy-to-follow 3D visual to monitor the overall project process; civil and structural engineers can check for any clashes of reinforcement and tendons; contractors can get exact measurements and quantities for their construction work. This process will significantly reduce time and errors in communication, which is crucial to a successful bridge project.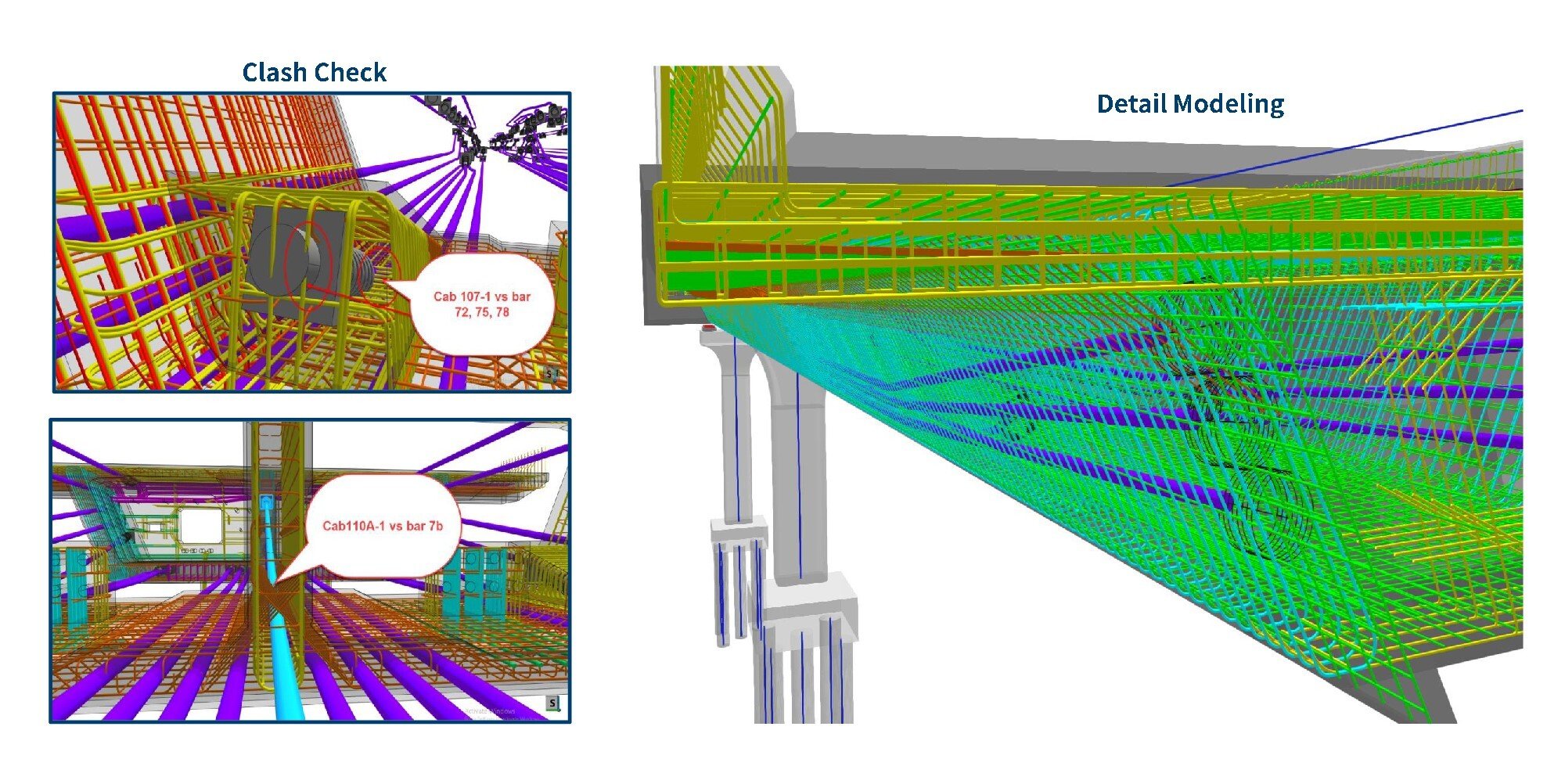 Tendon and reinforcement clash checks and detail modeling can be performed through midas CIM
Parametric Modeling and Integrated Analysis Interface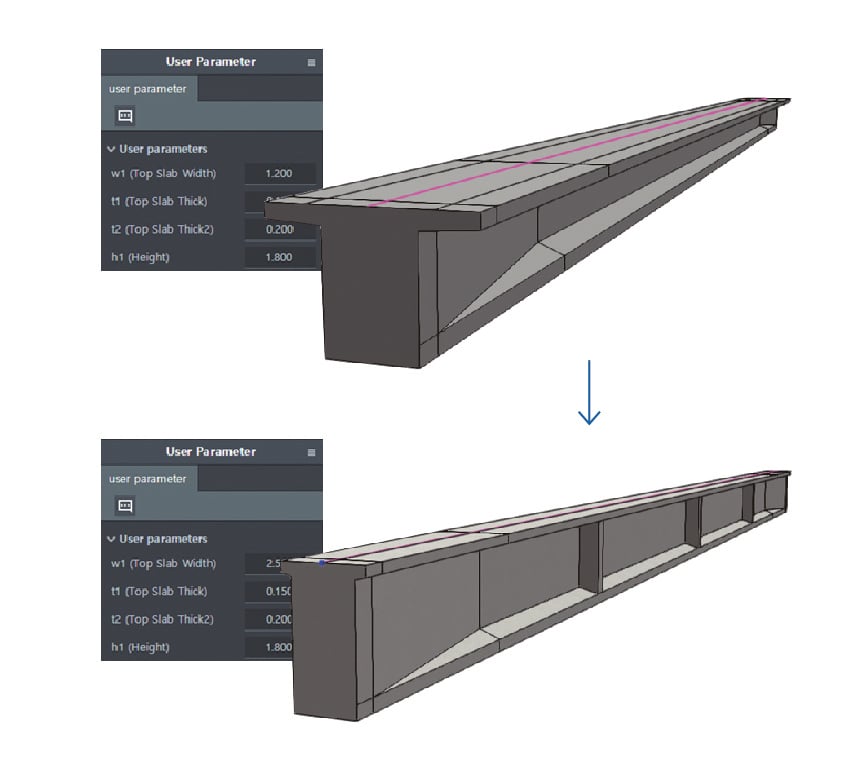 Parametric modeling can be performed using the User Parameter function in midas CIM.
Parametric modeling is a new technology in the early stages of development but is significantly effective in overcoming the challenges posed in bridge design. In parametric modeling, specific parameters are predetermined for each component of the bridge using mathematical equations to develop a design that meets specific design specifications. For example, as shown in the image above, 3D cross-section models can be generated using the User Parameter interface in midas CIM. Each model has very complicated coding encrypted with various parameters and information. Then, let's suppose that changes are necessary during the different design phases; instead of changing the whole model, the software calculates the modifications and makes the appropriate parametric adjustments to the entire bridge model. This technology is highly beneficial for complex non-linear bridge models with various geometric cross-sections.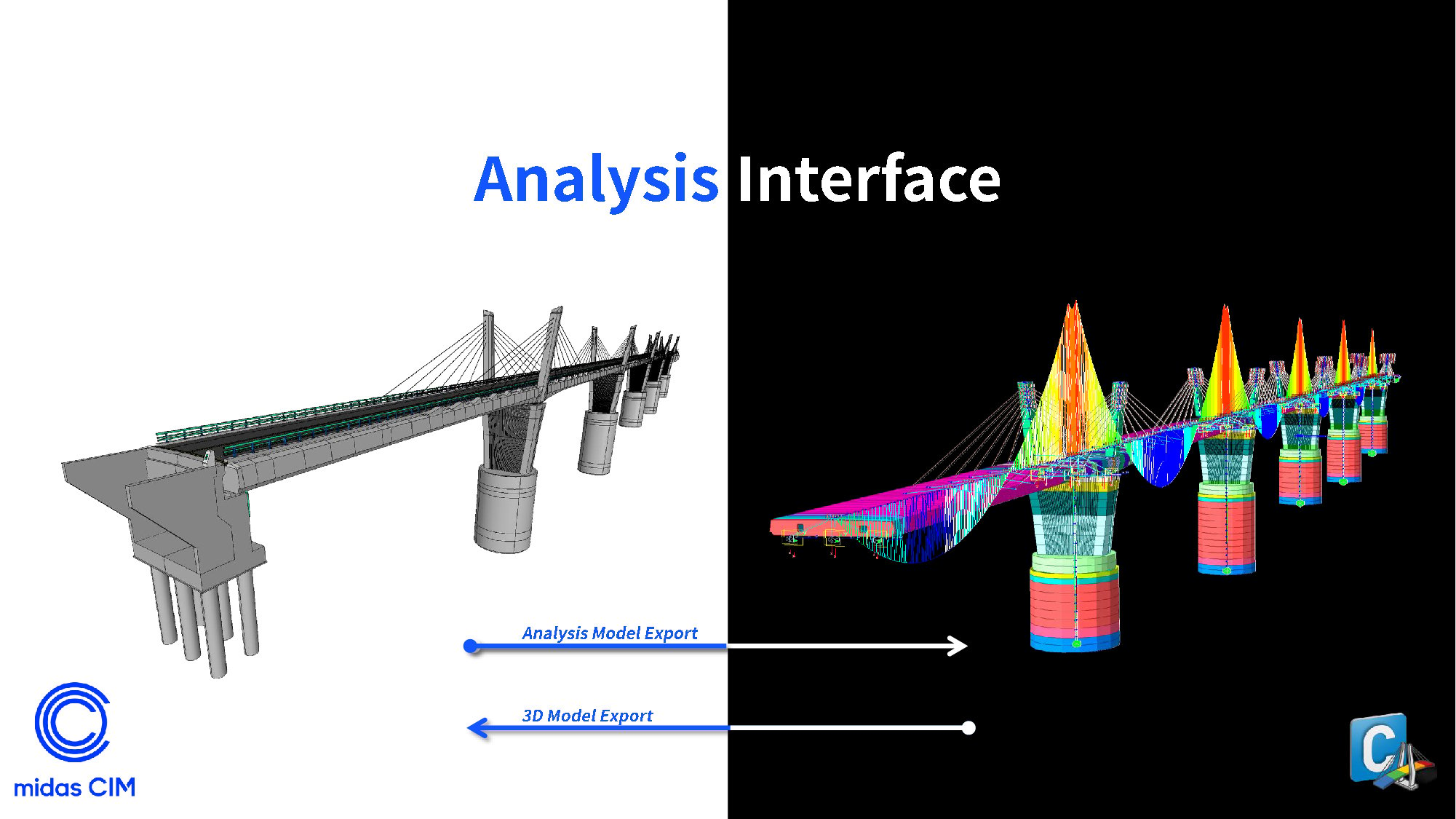 When you design in midas CIM, the user can export the model to midas Civil and perform structural analysis.
Another important beneficial feature provided in midas CIM is the analysis interface provided in the software. Users can design their structural model in midas CIM and export it to midas Civil (structural analysis software) to perform full-bridge analysis. Once the structural analysis is completed and the bridge designed with safe and stable parameters, the modified model can then be exported back to midas CIM to implement the necessary changes. This process is highly beneficial and cost-effective because it reduces the risk of cost overruns that could have surfaced if the issues were detected later in the construction phase.
Time and Cost Savings
Detailed construction stage analysis can be performed in midas CIM to check each stage of construction.
3D midas CIM models contain the time aspect of the project. Users can perform construction stage analysis and view the progress of each construction stage by simply selecting the stage of the history. This feature is highly beneficial because it provides good visualization of the project and helps manage the project's construction phases and financial side. Furthermore, midas CIM can divide the bridge into different segments and perform analysis on each construction stage by providing values such as moments, shears, deflections, creep&shrinkage, etc. This process is also beneficial because it gives engineers and contractors information on whether the bridge is stable and safe at each construction stage, minimizing risks before and during construction. Additionally, midas CIM can address constructability issues at each construction stage, reducing cost overruns and scheduling delays.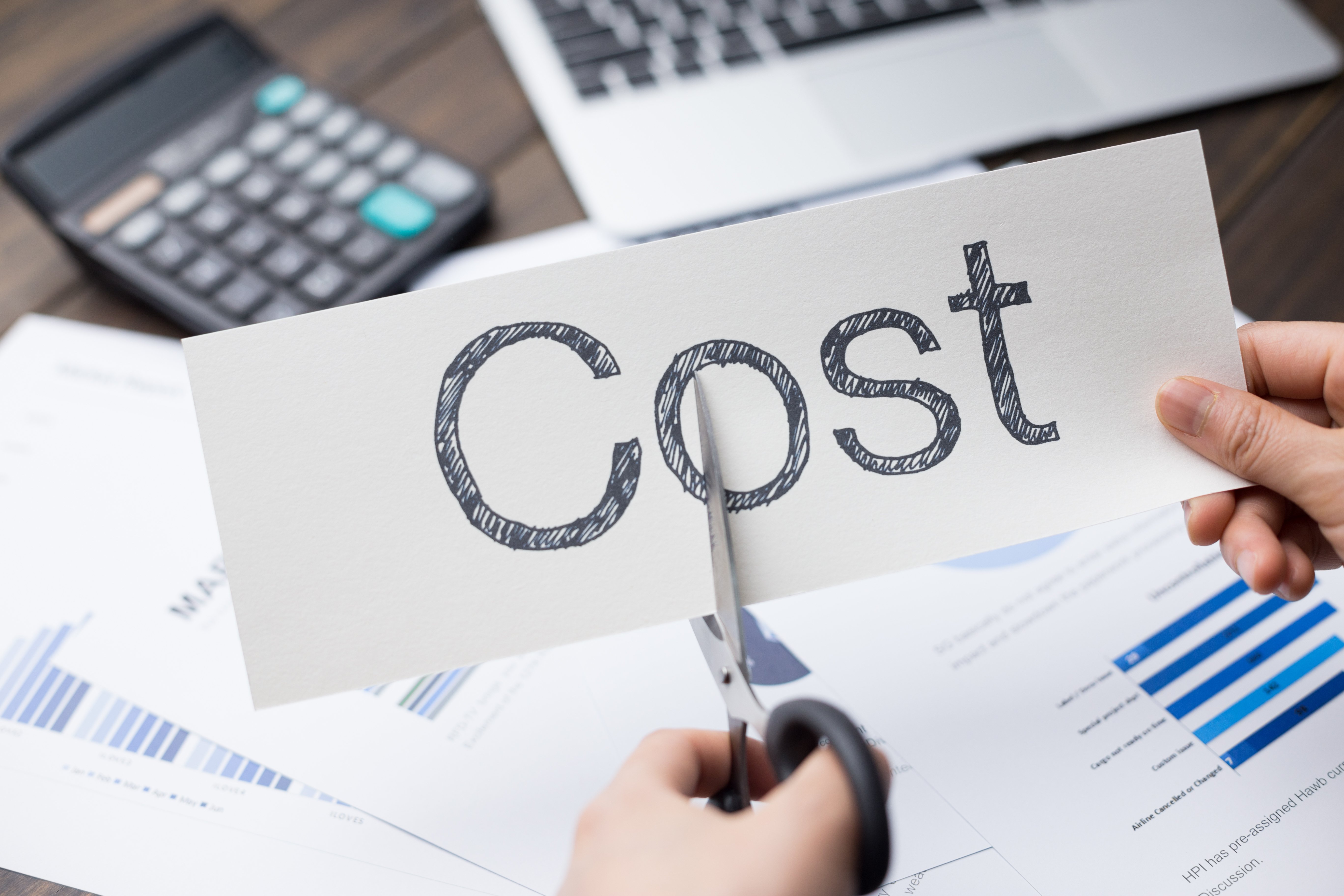 All of the features provided in midas CIM lead to cost savings
As we have seen, BrIM can reduce document errors and omissions, minimize rework, reduce project duration, and minimize risks, all of which contribute to cost savings of the entire project.
Now, let's take a closer look at some of the additional key features provided in midas CIM.
Additional Key Features
Alignment Based Library Modeling

midas CIM provides Point and Curve libraries where the user can design different components of bridges and assemble them into a single model using the Assembly Unit function.
Smart Template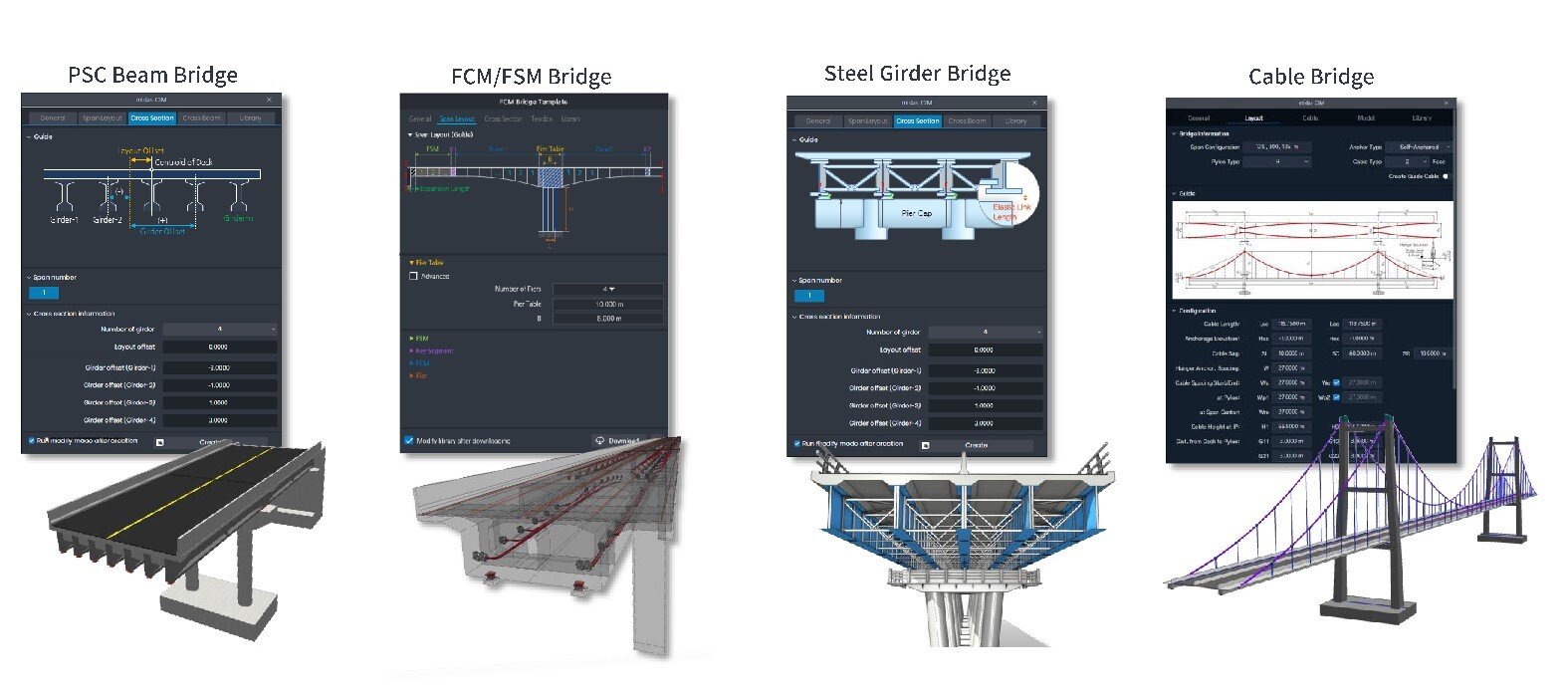 midas CIM provides a Smart Template that includes frequently used structures in bridges. Users can customize the template by editing tools or using values taken from Excel.
Structural Detail Modeling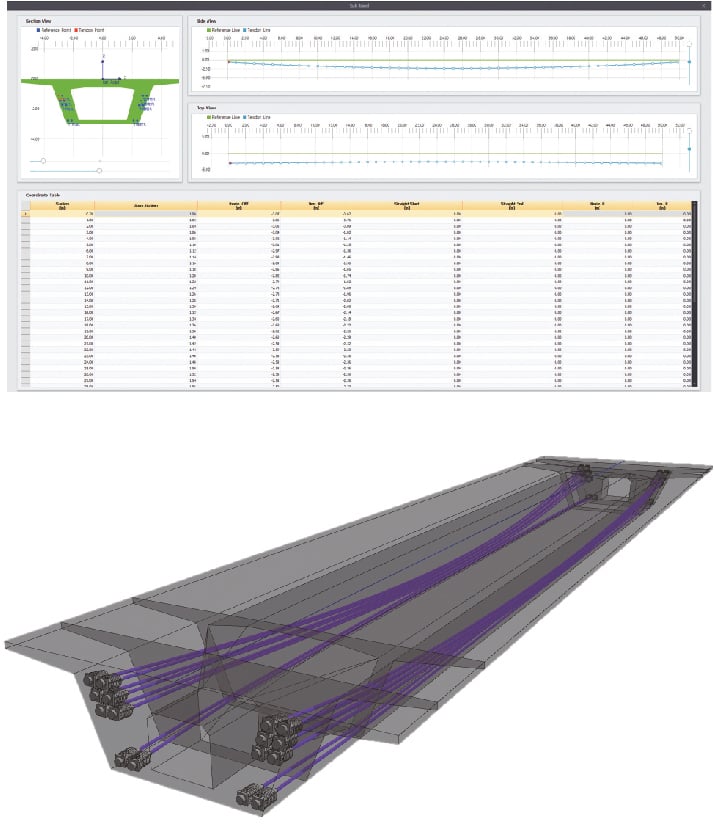 midas CIM provides tools where the user can design detailed models, including tendon placement, reinforcement detailing, steel detailing, and bolt&struts detailing.
Terrain Modeling

midas CIM has the ability to create terrain solid models using DWG/DXF topographic maps and boring data.
4D Construction Simulation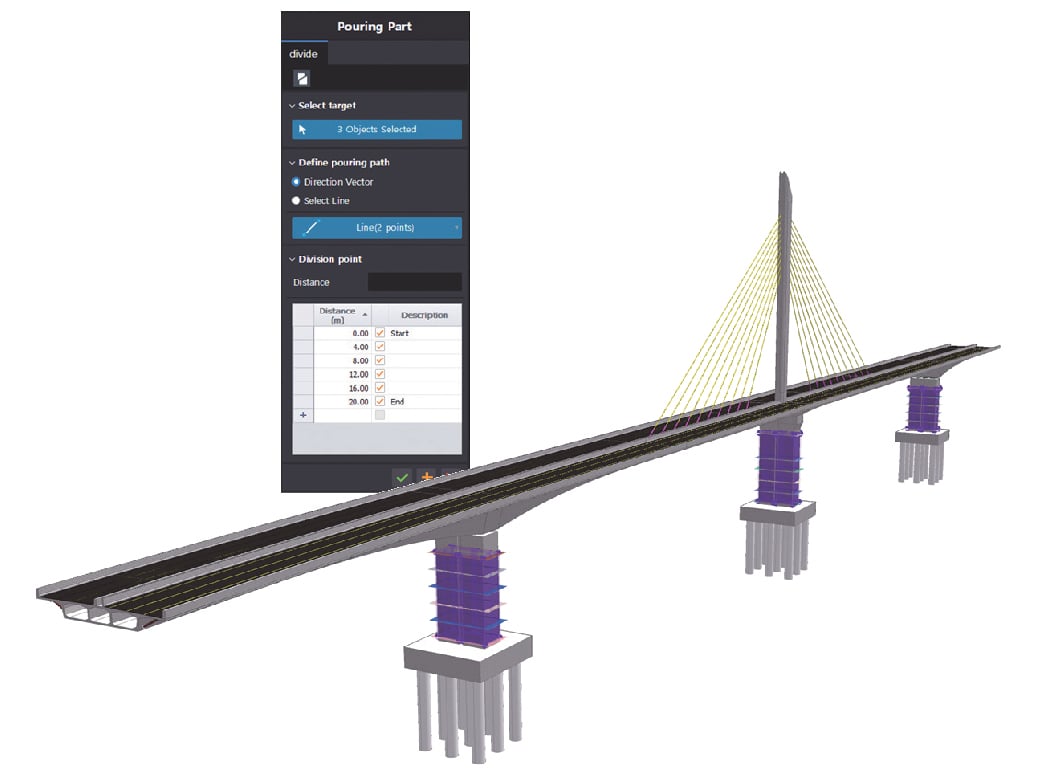 4D construction simulations can be performed through midas CIM. These include construction stage analysis as well as concrete pouring schedules.
What's Next?
This new concept of BIM will most likely shift the paradigm of the bridge industry. Just like vertical structures have benefitted from BIM applications, horizontal structures such as bridges will also benefit from BrIM technology. However, even though the new concept is exciting, there is still a long way to go to apply BrIM to the bridge industry. Some of the main reasons are the tendency to maintain the status quo in the project delivery, the investment, and the learning curve associated with the software.

At midas Bridge, our mission is to enlighten your understanding of the BrIM process through our innovative software, midas CIM. Even though midas CIM is still in the stages of development, our team is working hard to develop the program so that civil and structural engineers around the world benefit from the software capabilities.

Just as we shifted from paper-based drafting to a 2D CAD system, there will undoubtedly be a moment when all bridge-related projects endorse BrIM, so buckle up and be part of this amazing innovation.
Be prepared and not surprised!